This post may have affiliate links. When you click on a link we receive a small commission. This is at no extra cost to you. See Our Affiliate Policy for more info.
Looking for the best Malta trip itinerary? Lucky for you I recently visited there on a solo trip! Honestly, I hadn't heard a lot about Malta before visiting. My main concern was that it was safe for solo females. After some quick research, I decided to visit and share my experience.
This post will read like a Malta solo travel guide as well as an itinerary for all the best things to do on the island in 5 days! If you are traveling alone below are the tools to craft the perfect trip.
Looking for a Solo Female Travel Community?
Are you looking to be part of a tribe of like-minded solo travelers? As a solo travel expert since 2009, I share my travel hacks and tips inside my exclusive FREE Facebook Group. Join today!
Where is Malta Located?
An island in the middle of the Mediterranean, not too far from Sicily, and just north of Libya.
The small island is only about 17 miles long and 9 miles wide. Malta gained its independence in 1975. I was intrigued by the beauty of this tiny country and wondered how it would be to travel here as a solo female.
Is Malta Safe for Solo Female Travelers?
YES! Malta is safe for women! I'm always most concerned about safety when traveling alone as a woman, I was extra vigilant in this foreign land.
After five days of a lovely visit exploring the old town after dark and walking around solo, I am happy to report that I felt safe!
I experienced no problems getting around or communicating with the locals; for this reason, I believe
women can safely explore Malta alone.
📍 Download my pre-pinned Google map of all the best locations in this post!
My favorite restaurants, bars, hotels and top sights are all saved and ready to use!
Best Malta Trip Itinerary For Solo Females
How long you need in Malta should depend on how much you want to do. If you want just to chill, you can see Valletta in 3 nights.
But if you want to see it all, Malta has a few different hot spots that you could check out for the best itinerary. I stayed on the main island and the capital city of Valletta. This is also where I spent most of my time during my five-night stay.
Valletta is fairly small and easy to navigate. I got around on foot the whole time while in the old town. It is very touristic, but there is an element of being lived in by the locals that I enjoyed. As I mentioned before, previously British-owned, English is widely spoken all around Valletta. This made communication very easy.
Malta uses the Euro as its currency. In general, I found it to be an affordable place to visit, prices seemed to be average for a European city. Though a lot of English is spoken, the native language is Maltese. You will find that there is a large Italian-speaking population here as well.
Day 1: Sites of Valletta and the Three Cities
On the first day of any trip, I usually try to do a small group walking tour to get a broad overview of the city! These walking tours are usually affordable and a great way to meet people when you are traveling solo.
If you rather explore on your own, some of the main highlights in Valletta are the Upper Barrakka Gardens. It is one of Malta's most incredible sites.
This is a place you don't want to visit without your camera. Some of the best views and most Instagramable pictures can be taken here. You can see the "three cities" and Grand Harbor from this viewpoint.
Upper Barrakka Gardens are located only a seven-minute walk from the Valletta city gate. You can visit these gardens from 7 am to 10 pm daily. No entrance fee is required.
Continue your day one itinerary by strolling around the streets of Valletta. The architecture in Valletta is Baroque style, it's unique from any other place I've ever visited. I spent hours taking photos of all the beautiful buildings.
Valletta has lots of hills and lots of stairs! You need to plan your footwear appropriately, comfort is key. Also, it will likely be very warm, so bring water and a hat to shade from the sun.
---
Day 2: Full-Day Trip From Valletta to Gozo
Exploring the Cittadella of Gozo was one of the highlights of the five-day Malta itinerary for solo females. Any solo traveling woman needs to take extra care when traveling from one end of the country to another.
I often suggest booking with a tour company to relieve the stress and pressure of doing it alone. The tour I am recommending was a full day.
This tour starts at 10 am and ends at approx at 6:30 pm. After a 2-hour boat ride, you will arrive at the Gozo harbor. A bus will then take you to the Cittadella after stopping once for some breathtaking photo ops. The bus ride is entertaining and includes a brief history of the island.
Once you arrive at the Cittadella, you have about 2 hours of free time to explore independently. Here is where I got some amazing photos and a bite to eat. After your free time exploring the Cittadella, you are taken back to the ship and brought to the Blue Lagoon.
There is approx 1 hour 20 mins to spend relaxing at the blue lagoon before heading back to Valletta. This is the perfect day trip for solo women safely exploring Malta. If you have more time to yourself, check out the Gozo beaches!
Blue Lagoon
Visiting the Blue Lagoon could also be its own day trip. If you are a beach bunny and want to soak up the sun all day, there is no better place than the Blue Lagoon. A visit to the Blue Lagoon is possible on many of the day tours that usually include other stops.
The best way to visit is by private boat trip. If you want to go there and explore at your own pace, go by Ferry – Ebsons Comino Ferries or Comino Ferries Co-Op Ltd. Round trip tickets are about 10 Euros, and the journey from Valletta is approx 1 hour 30 mins. A bus option is also available, but I would highly recommend the ferry.
The bus journeys are long and less predictable due to heavy traffic. They are cheap at around 1.50-2 euros each way, depending on the time of year. Keep in mind that from November till March, there will be fewer frequent routes.
Day 3: Visit Popeye Movie Set
Popeye's Village! Visit the fully-functioning movie set from the Popeye film. It is a nice day trip for solo women safely exploring Malta. I will warn you, this is one of the big things to do in Malta with kids, but still, fun on your own. You will want to get tickets and can purchase them online with the link above.
The opening times are every day from 10.00 a.m. to 5.00 p.m. from November 2022.
I included this location on my five-day Malta itinerary for solo females even though I didn't make it. This day trip has been highly recommended by other solo female travelers. Based on reviews, females felt safe traveling alone.
Day 4: Mdina and Game of Thrones Tour
For the best Malta itinerary, visit the old fortified city of Mdina. Here you will find St. Paul's Cathedral, the 18th-century Vilhena Palace, and Palazzo Falson.
The Mdina Gate, a film location for Game of Thrones, is a crowd-pleasing attraction.
Admittedly, I made the biggest mistake when traveling here: forgetting my camera.
Day 5: Visit the Town of Sliema
Head to Sliema today, an up-and-coming area of Malta known for its shopping and nightlife. Sliema is an easy and CHEAP ferry ride from Valletta.
Check the Valletta Ferry site for details on prices and times.
Take a stroll down the promenade and browse the boutiques, restaurants, and cafes before stopping for lunch at one of the waterfront seafood restaurants.
Should I Rent A Car in Malta?
The answer to this question depends on how much of the island you want to see. If you're looking for convenience, renting a car in Malta is the way to go.
It will allow you to explore Malta at your own pace and visit attractions that are off the beaten path. Additionally, having your own transportation will give you more freedom and flexibility when it comes to sightseeing and exploring the island.
I recommend using Discover Cars to rent a car in Malta! They have the best prices and great customer service for foreigners. You can get insurance coverage directly with them as well!
My Favorite Travel Planning Resources
---
Travel Insurance
Protect yourself and your trip with Travel Insurance
Have all the data you need to stay connected while away!
Where to Stay Solo in Valletta
---
If you read my city guides, you know I am a sucker for boutique hotels! My preference for a boutique hotel is mainly because of the service level.
I find in the smaller hotels, the service is more attentive. For your best Malta trip itinerary, book the perfect accommodation.
I had a wonderful stay at The Cumberland Hotel Valletta. The service staff was fantastic! I owe the day tour recommendation to the hotel front desk attendant, for had he not suggested it, I may have missed it.
This hotel has an on-site restaurant, a rooftop deck with views, and wonderfully comfortable rooms! I especially appreciated the aesthetic of the hotel, it's a fancy modern that I just love.
As for the price, I found it to be reasonable for its incredible location. This neighborhood felt extremely safe in exploring Malta as a solo woman.
Boutique Hotels of Valletta
Safely Explore Malta by Staying in These Locations
I went and visited each of these incredible hotels and want to share my thoughts!
The Saint John
The Saint John is the place to be! From its historic grandeur to modern amenities, this hotel offers all the comforts of home and more. Walk into one of their gorgeous rooms and you'll immediately feel like royalty. With plush furnishings, marble bathrooms, and beautiful views of Valletta Bay, it's no wonder why this is a sought-after destination.
The Saint John also offers plenty of activities for guests to enjoy. Step outside the hotel and you'll find yourself immersed in the vibrant culture of Malta's capital city. Stroll through cobblestone streets and take in the sights of centuries-old architecture. Sip on a glass of wine in one of the cozy cafes or catch live music at an outdoor venue. Check rates and availability
The Phoenicia Hotel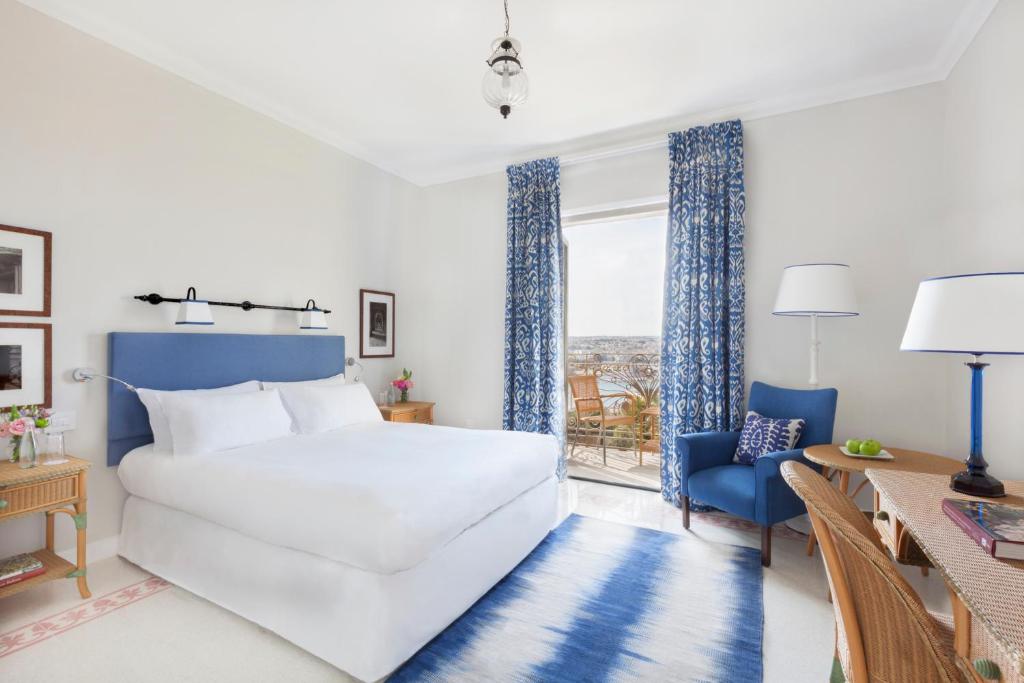 Staying at The Phoenicia Hotel in Valletta, Malta is like a dream come true. From the moment you step inside, you are welcomed with impeccable hospitality and luxurious surroundings that make it feel like paradise.
This five-star hotel offers its guests the chance to experience the best of both old and new – with traditional Maltese architecture blended with modern decor and amenities. The rooms are spacious and comfortable, each decorated in its own unique style. Whether you're looking forward to a relaxing getaway or a more active vacation, the Phoenicia Hotel has something for everyone. Check rates & availability
A Solo Woman Traveling Tip: Alright, ladies, so one of the things I often do when traveling solo is seek out a hotel with a pool. If my hotel doesn't have one, I find the nicest hotel in the city, in this case, The Phoenicia Hotel.
Hotel pools are usually for guests only, but hell, I'm one person, and I am willing to pay for drinks… so I show up as if I belong there and just lay down on a lounge chair.
Now, this is a risk and might not always work, but if you love pool time as I do…then it's worth a shot.
Domus Zamittello
When it comes to finding a place to stay in Valletta, Malta, The Domus Zamittello is a great choice. This luxurious hotel boasts modern amenities and charming decor that will make you feel like royalty.
Treat yourself to a little getaway at this fancy hotel after exploring the city, this is the perfect spot. Plus, with a convenient location just steps away from Valletta's most iconic attractions, it's hard to beat!
Best Bistro Restaurants in Valletta
Time to eat everything in Malta!! Personally, I think the best Malta trip itinerary must include all the places to stuff your face! Below is a list of restaurants I can highly recommend trying while visiting Valletta.
Trabuxu
I was extremely happy with my dining experience here at Trabuxu! The food, service, and wine were all top-notch. If I had more time, I would have returned for another meal. I came in for dinner and enjoyed an appetizer of fish and incredible pasta for my main dish. The wine list was fantastic. This place will get very busy, so make reservations in advance.
Zero Sei Trattoria Romana
Eat at Zero Sei Trattoria for the best Italian food in Malta! The penne arrabbiata was of the best I've ever had! I washed it down with an Aperol Spritz and finished it off with the panna cotta! Highly recommend getting reservations, or you will likely miss out! When I return to Malta, I will return here!
Rampila
Rampila was so fantastic I ate there twice! I'm always searching for a great fish dish, and Rampila sure did deliver. I ended up eating here for lunch and dinner, both times getting the salmon.
Yes, it was that good. It was perfectly cooked and had an amazing caper sauce paired wonderfully! The ambiance of the restaurant is great, especially if you sit outside.
Guze Bistro
The food at Guze Bistro is FANTASTIC!! I originally tried to come for lunch on a Monday, but it might be closed if you don't book in advance. Since this place is small and not in a super high-traffic area, you may need to book ahead so they will open for lunch.
I had the most lovely experience dining for lunch and then again for dinner. It may have been my favorite meal in Malta!
Naan Bar
I had a wonderful time at Naan Bar twice! The Indian food here is inventive and memorable! If I lived in Malta, I would be a regular for sure.
I tried several of the dishes here, all very flavourful and delicious.
Malta Itinerary of Cocktails & Coffee Bars
Yard 32 – This tasty little tapas and gin bar is the perfect place to start your night! I visited several times during my 5-night stay in Malta! Friendly owners/staff that care about a good cocktail and great service!
Alchemy – Inventive crafted cocktails! If you are into mixology, this is the place for you!
Cafe Society – Live Jazz and cocktails! This place has a great ambiance and wonderful cocktails! Be sure to check the opening times.
Lot Sixty One Coffee Roasters – A good cup of coffee is worth writing about! Here you will find a delicious selection of coffee and tea. Of the best in Valletta!
Is Malta Safe To Travel Alone For Solo Females
Traveling alone as a woman can always be a bit nerve-racking. I hope this guide helps you create the best Malta trip itinerary. I find that as long as the locals seem happy to have you, the experience is always good.
Valletta & Gozo was a welcoming and friendly place that I would recommend exploring as a solo woman. I felt safe walking alone a night in Valletta and had no issues at all.
For the best five-day Malta itinerary solo females always plan ahead! I learned the hard way that waiting until the last minute can result in waiting until the next time!
Solo Female Travel Safety Gear
---
Want to protect your valuables anywhere? This portable safe will do the trick!
Being connected makes me feel safe! Get a portable Wi-Fi device and have the internet everywhere!
I pack a first-aid kit every time I travel! You never know when you will need the essentials.
Emergency Numbers
Emergency Number in Europe: Dial 112 & Emergency Number in the United States: Dial 911
What is the Best Time To Visit Malta?
Malta is becoming almost as popular as Greece for solo females. If you want to escape the crowds but still have amazing weather, I suggest a visit in early October. The rainy season in Malta starts in November and lasts through February. The winters, though warm, get a lot of rain.
I visited in the first week of October. The temperature each day was HOT. Around 85-90 degrees. It was far less crowded than I was expecting.
It could be a risk going towards the end of any travel season as some things may be closed, but it was a perfect time in this case.
Transportation From Valletta Airport
My best advice to save money when traveling is to take public transit…. But not all public transit is created equal.
When traveling to the old town of Valetta from the airport, here are a few tips:
Bus Transportation to Valletta
Here is a recap of my experience solo on the bus:
It was cheap, around 3 euros.
It was crowded…and wasn't smelling as fresh as I would like.
It's a bouncy ride. If you get motion sickness, you might want to consider a different mode of transportation.
My overall advice will be if you have more than a backpack, spring for the taxi ride that costs around 17 euros.
Sometimes you just can't put a price on your comfort… Especially traveling as a solo female.
Final Thoughts My Best Malta Trip Itinerary For Solo Females
If you are contemplating going to Malta alone, do it! I had the best time on my own. There is so much to explore in Malta you don't need a travel buddy!
I hope you were able to gain clarity from the post! Feel free to get in touch with questions!
Frequently Asked Questions
Is Malta safe for solo female travelers?
In my personal experience, Malta is safe for solo females traveling alone. Like any place you visit, keep common sense practices in place. Don't flash valuables in public or hang around dark alleys at night.
Stay In Touch!