This post may have affiliate links. When you click on a link we receive a small commission. This is at no extra cost to you. See Our Affliate Policy for more info.
Designer luggage sure is having a moment right now, and with that in mind, let's do a Level8 Luggage Review!
I was attracted to Level8 Luggage for a couple of reasons that lead me to review and compare the Textured Carry-On and Road Runner Carry-On luggage with a laptop pocket.
Level8 caught my eye with their line of travel gear for women. These pieces are not only functional but chic, which got my attention.
Straight away I am impressed with both the Road Runner Carry-on and Textured Carry-on, although I do have some criticisms that I will share in this review.
For this review, I will compare the features of both models to help you decide which is right for your travel needs. We'll look at construction, capacity, convenience features, and cost to give you a comprehensive overview of what Level8 has to offer.
With these factors in mind, you can decide which model best meets your needs.
But, first, let's learn a little more about the Level8 brand!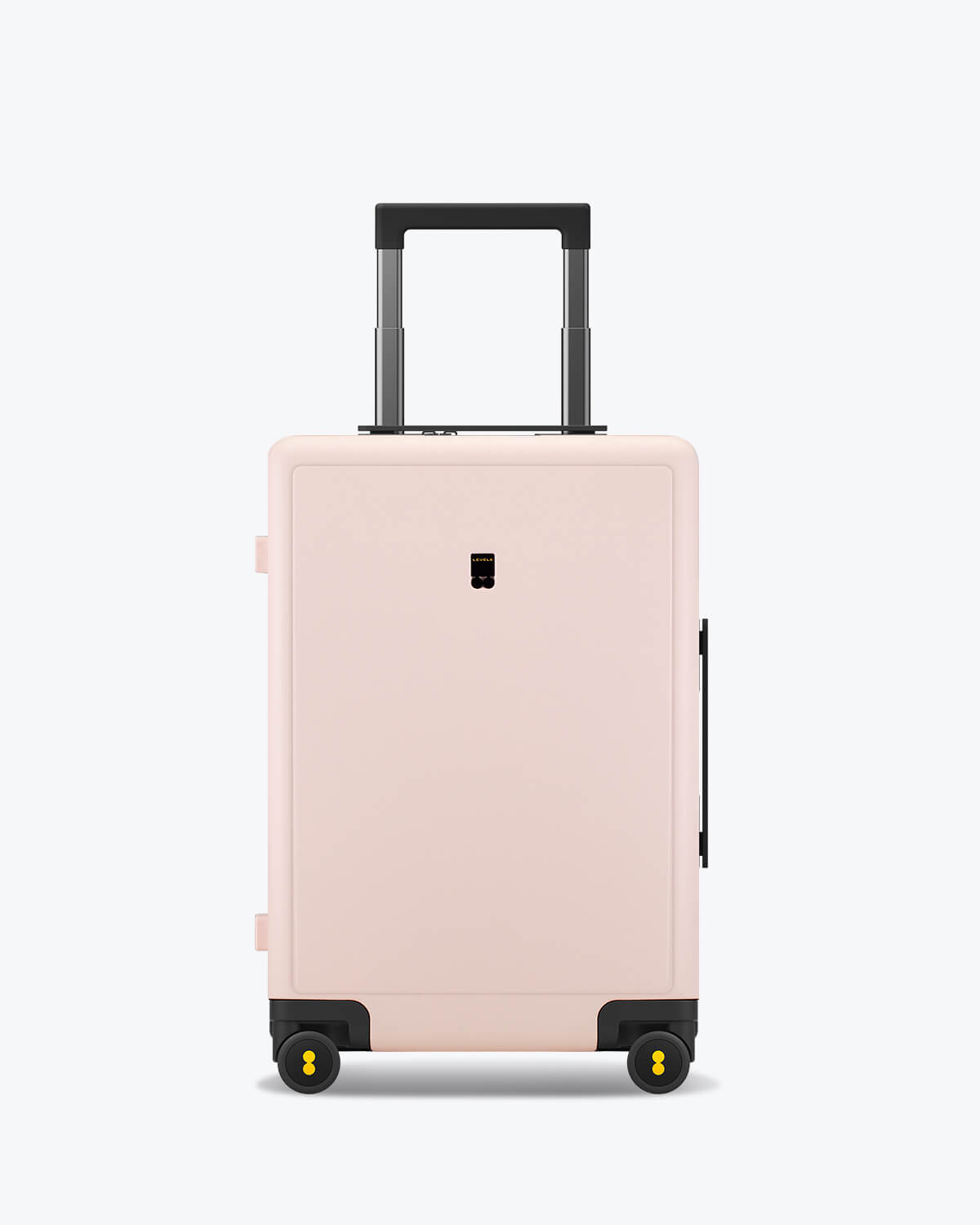 Textured Carry-On 20"
The 24″ and 28" features an X-Strap Compression System for optimal organization, while the 20″ models do not include this feature.
Level8 Luggage Review: Behind the Level8 Brand
Level8 Luggage New York-based company winner of a Red Dot Award in 2021. Their mission is to make luggage that accommodates modern travel needs while still being chic & stylish.
All products are designed and manufactured with high-quality materials, attention to detail, and affordability in mind.
The company prides itself on creating reliable yet fashionable items that make traveling a more pleasant experience. Level8's goal is to provide functional luggage that looks good and is also lightweight and durable.
Their products are designed with a modern aesthetic while providing superior protection for your belongings and easy-to-use features.
Level8 Luggage's range includes everything from carry-ons to checked bags, to business cases, all crafted with the same attention to detail.
They offer a variety of colors and styles to suit any traveler's taste. With its wide selection of products, Level8 Luggage is sure to have something great that will make your next trip easier and more stylish.
Now that you know a bit about the brand, you might be wondering where can you get these two pieces I tested: The Textured Carry-On and Road Runner Carry-On Luggage with a laptop pocket.
Where You Can Find Level 8 Luggage
If you are looking to purchase a Level8 Suitcase you can do so by purchasing directly from the Level8 website.
Level8 Luggage ships worldwide, so you are likely to be able to get this luggage shipped directly to your house.
The shipping information for the United States (Contiguous US) and other countries can be found below:
Shipping – US Contiguous
| | | | |
| --- | --- | --- | --- |
| Cost | Processing Time | Shipping Time | Shipping Methods |
| $0 | 1-2 Business Days | 2-7 Business Days | UPS / FedEx / USPS |
(United States except Alaska, & Hawaii)
Shipping – UK
| | | | |
| --- | --- | --- | --- |
| Cost | Processing Time | Shipping Time | Shipping Methods |
| $0 | 1-2 Business Days | 2-3 Business Days | DPD / DHL / OTHER |
(UK ONLY)
Shipping – EU
| | | | |
| --- | --- | --- | --- |
| Cost | Processing Time | Shipping Time | Shipping Methods |
| $0 | 2-3 Business Days | 3-4 Business Days | DPD / DHL / OTHER |
(EU ONLY)
SHIPPING for the rest of the world, click here.
Alternatively, you can purchase Level8 on Amazon.com. Prices don't seem to vary between their official site and Amazon, but you can keep an eye out for sales or promotions.
Lifetime Warranty:
Level8 automatically activates their warranty of the products if you purchase directly from their website. If you purchase elsewhere you are responsible for registering for the warranty.
Personally, I have better luck when I shop directly with the retailer when it comes to any defects or product repair needs.
Returns:
Full-price items can be returned 7 days after delivery of the product. Exchanges are only possible if the item is defective or damaged and needs to be exchanged for the same it.
Level8 Luggage Review Comparison of Textured Carry-on For Women & Road Runner Carry-On with Laptop Pocket
Quick Guide Specifics -Textured Carry-On Level8 Luggage
---
Textured Carry-On Level8 Luggage
Size
Weight
Capacity
Dimensions
20″
7.7 lbs(3.5kg)
41 L+31 L, 68 L+31 L
14.5"L*9.2"W*21.5H
(37cmL*23.5cmW*54.5cmH)
Size Guide for Textured Carry-On
Textured Carry-On Luggage Review: Design and Features
The Sleek Design
The Textured Carry-On has an eye-catching exterior with its multi-textured hard-shell luggage body that adds visual interest to your bag.
The exterior features a chic design with minor details, such as the logo, that make the bag pop!
I choose pink, which can be risky since some pinks are way too bright and tacky for my taste.
However, I made an excellent choice as I am in LOVE with this shade of powered pink, it's soft and understated.
The Materials
The Textured Carry-On is the less fancy of the two suitcases. It has a durable Polycarbonate shell designed to handle the rigors of travel.
It has multiple compartments for easy organization and an adjustable handle for comfortable carrying.
The Function & Organized Inside
Inside the hard-shell suitcase main compartment, there are two internal pockets that allow you to keep your items organized during travel.
It doesn't have straps, but I personally don't like the straps. Having compartments in which you can pack everything in and then zipper over are much more appealing to me.
The capacity is good for a small carry-on, you can really roll up your items and get them in there.
The TSA-Approved Combination Lock
This carry-on suitcase comes fully equipped with already built-in TSA-approved locks. And I have to say, these locks are genius!
I love how easy they are to use without needing anything else additional.
Since they are TSA approved this means if access was needed to your bag, it can be achieved without the risk of damage to your bag.
Silent, Fast, And Easy Maneuvering 360 Spinner Wheels
360 wheels were their invention we needed to get through the airport with ease. How we all used to drag our suitcases through a crowded airport is beyond me.
Now you can push your bag alongside you instead of dragging it along and straining your arm.
Another feature I love is how QUIET the wheels are, you can be lightning-fast and silent when you are barreling through the airport. With an anti-shock design, you are promised a smoother ease of use.
The Sleek Handle
I love this wide handle as it sets the bag apartment from other suitcases on the market. Made to last, the handle is very durable and made of aluminum alloy.
Compact Size For A Pro Carry On
If you have ever travelled in Europe you know that the carry-on requirements are much different than in the United States.
Most US luggage approved for carryon only meets US requirements.
Before I became a seasoned solo traveler, I was that passenger having her bag taken at the gate to be checked because it was just a bit too large.
Now I am always sure to double-check if the measurements are within the allowed limit!
What is the Textured Carry-on Missing?
There is no such thing as a perfect suitcase, but for the price, I think the Texurted Carry-on is a great deal.
But sure, it could have smart features such as some kind of outside pocket on the back for documents.
I like they focused on style so you do stand out walking down that jetway. A little more function could be added to this bag, but it is not a deal breaker.
Quick Guide Specifics -Road Runner Carry-On with Laptop Pocket
---
Road Runner Carry-On With Laptop Pocket
Size
Weight
Capacity
Dimensions
20″
8.9 lbs
38L
14.4"L*10.1"W*21.5"H
(CM: 36.83 L x 23.11 W 55.62)
Size Guide for Road Runner Carry-on with Laptop Pocket
Review of Road Runner Carry-On Luggage With a Laptop Pocket
The Functional Look
The Road Runner Carry-On Luggage with a Laptop Pocket is designed with function first to make traveling more convenient. The hardshell suitcase exterior is sleek and sharp with the little embellishments of its logo that makes this bag stand out.
I choose black because it goes with more than the navy would in my wardrobe. Note this pro carry-on is only available in 2 options, Black and Navy. A variety of different colors would be preferred.
The waterproof shell has a pop-out section for your laptop which is a great feature for a solo traveler, like myself.
The Function & Organized Inside
The interior compartments consist of two large zippered pockets and an adjustable mesh divider that can be used to separate clothing from other items.
It also has a laptop pocket and three external pockets for quick access to your items. The laptop pocket feature is what drew me to choose this bag in the first place. I love the easy access to grab my laptop when needed.
Laptop Compartment
The secure Laptop compartment measures 10.6″ x 15″ and fits for 15.6″ laptop. The tablet compartment measures 6.7″ x 10.6″ and fits for 10.9″ tablet such as iPad Air.
I like the pockets and organizers within this section! It makes it very easy to separate all that you need for your trip.
The TSA-Approved Security Locks
The same reliable locking system and built-in TSA-approved lock are included with the Road Runner, the same as the Textured Carry-on.
With the Road Runner, you have an extra set of locks to be used for the laptop pocket!
Let's hope these locks become standard on every new suitcase going forward.
Wheels
The wheels are the same as with the Textured Carry-on. It has 360-degree spinner wheels that make maneuvering in crowded places much easier.
Also, just like with the Textured Carry-on nice and quiet, shockproof.
Handle
This handle is sleek and sturdy. I have had no issues with its functionality!
Compact Size
The capacity for the Road Runner Carry-On compared to the Textured Carry-On is comparative. This bag has a little extra space and does have inside straps to help keep your items from moving around.
I have come to just prefer the zipper compartment instead of straps. It is just my personal preference, not a deal breaker.
The mesh dividers have some zipper pockets perfect for smaller items.
What is the Road Runner Carry-on with a Laptop Pocket missing?
My biggest and only issue with this bag is the lack of color choices. Black and navy are more masculine colors.
We, ladies, would like more color variety, so if you are listening, Level8 Luggage, more choices, please.
I really wish they made this bag in the powered pink that I got with the Textured Carry-on.
Level8 Luggage Review: Durability and Quality
Both the Textured Carry-On and the Road Runner Carry-On Luggage with laptop pockets are made of lightweight yet durable materials. The exterior fabric is waterproof, so your belongings stay safe from spills and weather.
The zippers on both bags are reliable and easy to use. The wheels on the Road Runner bag roll smoothly across most surfaces, making it a great option for travelers who need to move quickly.
Level8 claims the luggage has anti-scratch surface technology. I am still testing, but I imagine it is going to depend on the user. I am very careful with my possessions.
Like anything that claims to be "anti" it still happens, kinda like a stainless steel fridge, I'm sorry, but they stain.
Overall, I am very impressed with the quality of these two pieces of luggage from Level8. The aesthetic designs are beautiful and the materials are durable, which makes them both great options for any traveler.
With its modern design and high-quality construction, Level8 provides an excellent solution for travelers who need reliable luggage that stands out from the crowd.
This model also comes with a TSA lock for added security, and it's available in four different colors.
Which Carry-On Should You Buy?
If I am choosing between the two I am going with the road runner because I want the laptop compartment. I have the unfortunate habit of bringing my laptop with me everywhere I go, so I need the compartment. But I am wishing it was pink!
The textured carry-on is really a great choice for someone who is going for a stylish look and doesn't really care about the laptop compartments.
A good compromise is to get the Atlas Pro Laptop Backpack and carry it as your personal item with your laptop inside.
This way you have the pretty pink suitcase and the functional travel backpack for the laptop if you need it. in there instead of the suitcase.
Level8 Luggage Reviews
Maybe my word just isn't good enough? I thought this review would hold value if I added what other people were also saying about the Level8 Suitcases!
What Customers Are Saying!
Quick Guide to Airline Carry-On Restrictions
With the Road Runner measuring 21.5″H 14.4"L 10.1"W and the Textured Carry-On at 21.5″H 14.5"L 9.2"W these bags are going to pretty much fit on the same airlines.
Budget Airlines make money off making you check your bag, so if you were hoping these were going to fit on Ryan Air, you might have to exhale.
Level8 has a full breakdown of the airline restrictions that are subject to change, listed on their website.
What Fits in Level8 Luggage Textured & Road Runner Carry On
Do you need a reference guide on what you can fit in your level8 suitcase?
Below is a general packing list that you can use as your guide.
Packing List for a Small Carry-On Luggage
| | |
| --- | --- |
| Clothes | Accessories |
| 2-3 pairs of pants/shorts | Toiletries/makeup bag |
| 2-3 tops | Reusable water bottle |
| 1 dressy outfit (optional) | Electronics (phone, laptop, charger) |
| 4-5 pairs of underwear and socks | Reading materials (books, magazines, etc.) |
| 2 casual shirts | Travel documents and wallet |
| 1 pair of shoes | Sunglasses/glasses case |
| 1 pair of pajamas | Miscellaneous items (umbrella, snacks, souvenirs) |
Basic Small Carry-on Packing List
Packing Guide for Small Carry On
Packing a small carry-on bag can be tricky since you have limited space to work with. Here are some tips on how to maximize the space and get your items packed efficiently into Level8 luggage:
• Start with the essentials – Begin by packing any essential items that you will need for the trip, such as documents, medications, and toiletries.
• Use packing cubes – Invest in some lightweight sorters to help you organize your items. This will help you save space while keeping everything organized.
• Roll your clothes – Rolling up your clothing is a great way to create more room in a smaller bag. It also helps reduce wrinkles and keeps your clothes better protected.
• Stick to the basics – Choose versatile pieces that can be worn multiple times with different items. This way, you don't have to sacrifice space for extra clothing.
• Wear bulky items – If you need to bring bulkier items such as coats or boots, try wearing them on the plane instead of packing them. This will help you save valuable space for other items.
Level8 Essential Accessories
I am someone who likes to match all my travel gear, so I was very interested in what travel accessories Level8 has to offer!
I found a variety of smart backpacks and organizers! In addition to the stylish luggage you can find the following products from Level8:
LEVEL8 Atlas Laptop Backpack which is a great option for your personal item. Check out all the accessories here on the website.
Checked Luggage
If you are looking for luggage sets Level8 has some good deals. Check out the website for details. The most popular check-in luggage is the Voyageur 28″/26″ with a wide telescopic handle.
OVERALL DIMENSION: 29.1″ x 16.6″ x 13.3″ (including wheels and handles) WEIGHT: 11.44bs. PACKING CAPACITY: 99L
Final Thoughts on Level8 Luggage Review
In addition to trying the luggage myself, I read a lot about what other people had to say. And from my experience and the reviews of others, this luggage is worth it!
I found them good value for the money with both my suitcases. Now if you want to find a bad review, I am sure you will find one.
Unfortunately, not everything is perfect, but from what I glean online if you end up with something defective, the company has excellent customer service to make it right.
So whether you're looking for a stylish suitcase or a functional carry-on, Level8 has something to meet your travel needs. With its modern design and high-quality construction, Level8 provides an excellent solution for travelers who need reliable luggage that stands out from the crowd!
Level8 Luggage FAQs
Is Level8 a quality suitcase?
Yes, Level8 is a highly reviewed brand with cited excellent customer service and quality luggage. For the price, I think the luggage is a quality product
Does Level8 Luggage fit on European Airlines for Carry-on
Level8 luggage does fit the requirement for many European Airline carriers. Each airline has different restrictions so it is advisable to check each airline individually.
It is worth buying level8 luggage?
Depending on your budget price point I have found Level8 to be a great value for the money. The luggage is durable and of good quality.
Does Level8 Carry-on Luggage meet Ryanair & Easy Jet size requirements?
The carry-on size restriction for Ryanair is 21.6in x 15.7in x 8in, which makes both the Level8 Textured Carry-On and Road Runner carry-on a hair too large for Ryanair. The Easy Jet size restriction is 22in x 18in x 10 in which makes both bags nearly eligible and I would bring them.
Does Level8 Luggage scratch easily?
I have used Level8 Luggage a few times, it doesn't seem to scratch easily. That said, it's not scratch-proof. It holds up better than most luggage for durability.
Customized Travel Planning Services
Tailor Made For How You Like To Travel
Answer Questions
First, you will tell me a little bit about your desired trip and when you want to go.
Connect on a Quick Call
Next, we hop on a video or phone call to go over so details about the trip.
Receive Your Itinerary
Within 48 hours you will receive your customized itinerary!